Umbria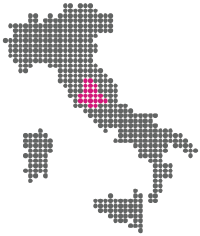 Umbria: The Landlocked Region
According to historic sources, the territory occupied by the Umbri people was much wider than today's Umbria, reaching inland along the eastern bank of the Tiber and up north all the way to the Po Valley. Human presence in Umbria has been documented through graffiti dating back to the Earlier Paleolithic period.
The first contacts between the Umbri and the Romans were mostly commercial, then later became political and military. Eventually, the process of "Romanization" of the territory was completed by the emperor Augustus with the foundation of colonies such as Spoletium (today Spoleto) and the organization of the territory along the Amerinian Way that linked Nepet (Nepi) with Clusium (Chiusi). Umbria then became the 6th regio or "region" of the Roman Empire.
Though the wine production in Umbria is limited, the quality is outstanding and includes the Orvieto DOC, one of the best known and appreciated Italian whites produced around the city with the same name. It is a blend of four to five grapes, primarily Procanico, known also as Trebbiano Toscano (40% to 60%), Verdello (15% to 25%), Grechetto, Canaiolo Bianco, known also as Drupello, and/or Malvasia Toscana for the remainder.
Another little known wine produced and consumed locally that is a must tasting when traveling through the area is the Sagrantino di Montefalco DOCG. This wine is made with of at least 95% of Sagrantino grapes. It is delicious with local meat, rich pastas and strong-flavored cheese recipes. It often reaches 14% alcohol by volume, just below the alcohol gradation of dessert wines such as Marsala, Sherry and Port.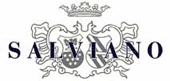 Nestled among Umbria's rolling hills between Todi and Orvieto, the Salviano estate occupies 4,940 acres surrounding Lake Corbara and the banks of the Tiber River in the heart of the Orvieto D.O.C. production zone.
The Salviano vineyards are planted with Sangiovese, Merlot, Cabernet Sauvignon, Chardonnay, Sauvignon Blanc, Trebbiano Toscano (Procanico clone) and Grechetto, and extend over 173 acres, rising from 150m to 500m above sea level. These newly planted vineyards of indigenous and international varieties produce excellent quality red and white wines that range from the classic Orvieto Classico Superiore to progressive luxury red blends.
"Salviano" Orvieto Classico Superiore D.O.C.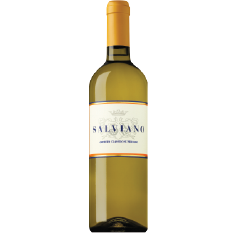 White Wine
750ml
The wine is fruity and floral but not sickly. It is savoury and rounded to a palate but persistent and elegant.