Abruzzo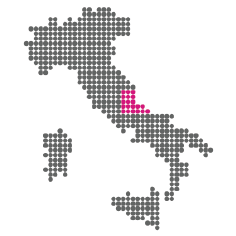 Abruzzo: Between the Sea and the Mountains
This area of Italy was already inhabited in pre-Roman times by the pre-Indo-European cultureof the Piceni and subsequently by various Italic tribes.
Known in ancient times as Samnium, the name was changed in the Middle Ages to Aprutium. In the 12th century the emperor Frederick the 1st named the region Listitieratu Aprutii and made itpart of the Kingdom of Southern Italy, a political entity that despite many difficulties, maintained its ownidentity until 1860. L'Aquila, the current regional capital, was probably foundedin 1254 to sustain an anti-imperial uprising in the western part of the region.
Abruzzo produces just two DOCG and two DOC wines that, though they carry brand names, usedto be little known abroad and misjudged as cheap, generic, supermarket varieties. This is changingthough, as of much of southern Italy the region is undergoing a gradual transition from bulk-wineproduction to boutique, bottled quality wines production. In other words, a transition from a strictlyindustrial wine culture to one in which a limited and cared-for production that can bring commercialsuccess and prosperity to the local residents.
Though the situation is changing, there is still a tendency among wine critics, including Italian ones, to look down on the wines produced in the mezzogiorno, or southern Italy. What is missing in this blanket evaluation of Abruzzo wines is the fact that many better-regarded French and northern Italian wines contain, in various measures, wine from this region, since much of the production is still shipped acrossnorth for blending purposes.
The four total DOC produced in Abruzzo are the Contro Guerra, Trebbiano d'Abruzzo, Montepulciano d'Abruzzo and Montepulciano d'Abruzzo Colline Teramane.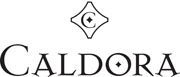 Caldora is a young partneship between visionary Valentino Sciotti, renown winemaker Mario Ercolino and one of the largest wineries in the Abruzzo region. Total holdings consist of around 1200ha but only the best 200ha are selected, vinified and bottled under the Caldora name.
The majority of these plantings are located within the Ortona area in a microclimate that runs through a 25km band between the Adriatic coast and the 3000m tall Mt. Maiella.
The first bottling, with an up-to-date winery facility coupled with an avante-garde vineyard manangement system, captured the essence of Caldora: maximum fruit expression in a top quality, reasonably priced wine that everyone can enjoy.
Full-bodied, well-balanced, intense and quite persistent.
Fruity, peach and mineral flavours; medium body with roundness and a pleasant mouthfeel, long-lasting, clean, spicy yet delicate.
Intense, quite persistent, fruity with notes of tropical fruit. Full-bodied, balanced, intense and quite persistent.
Quite intense and persistent, fruity with notes of yellow fruit. Full-bodied, well-balanced, intense and persistent.
Quite intense and persistent fragrance, fruity with hints of cherries, prunes and vanilla. Medium bodied wine, quite tannic and well- balanced.
Intense and persistent, fruity with a winy note and wood flavour. Medium body, good tannins and well-balanced.
Intense ruby red color with violet reflections, intense, fruity. Full-bodied, soft, quite tannic, harmonious.
Intense, persistent and fruity, with hints of vanilla. Full-bodied, tannic and well balanced, intense and quite persistent.
Intense and persistent, a spicy aroma with hints of chocolate and tar but never to dominate over its copious fruit.