trentino – alto adige
The Alpine Border
As the name suggests, the Trentino–Alto Adige is comprised of two separate areas. Trento refers to the southern part of the region and its capital is Trentino (the ancient Roman Tridentum). The name Alto Adige identifies the northern territory of the region that includes the higher (alto) part of the Adige River.
"Pane e vino fanno un bel bambino" or "bread and wine make a beautiful baby". This local expression demonstrates the importance and consideration given to wine in this Alpine region. The saying reflects the widespread belief that bread and wine are fundamental sources of nourishment and growth, both physically and emotionally.
With that said, it must be considered that Trentino-Alto Adige produces less than 1% of the national wine production, but accounts for about 10% of grappa production. Grappa is a vodka-like traditional Italian drink, made from the leftover skins and seeds of grapes used for wine — try some and you may find yourself uttering "pane e vino fanno un bel bambino".
Read More
There are six grapes native to this cool mountain region: the whites are Nosiola and Gewürztraminer and the other four are the red Teroldego Rotoliano, Marzemino, Schiava and Lagrein. In addition to the native grapes, well known international grape varieties such as Chardonnay, Cabernet, Merlot, Moscato, Pinot Nero and Pinot Grigio, as well as Müller-Thurgau, are grown throughout the region.
One main distinction between Trentino and Alto Adige production is the fact that in the northern area the wines are produced at 50% by cooperatives and 50% by small family-owned and managed wineries that sell their product locally with limited exports to Germany and Austria.
Trentino as well can count on a large number of growers who joined into large cooperatives, which produce wines that have consistent taste and characteristics year after year but, more importantly, this area is also home to one of the most prestigious and historical Italian sparkling producers: Ferrari. These popular wines have found their niche, both in Italy and abroad, among wine drinkers who look for good quality and affordable wines for daily enjoyment.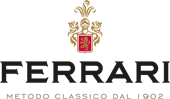 Masterworks have a soul, where their secret is concealed. Ferrari is a work of art, a masterpiece of harmony sculpted by nature, tradition and passion. And it is with passion that the century-long story of Ferrari, a leading producer of classic method spumante in Italy, and among the first in Europe, begins.
As you approach a glass of Ferrari you can sense it immediately: sight, taste, nose are involved in a harmonic and all-enveloping symphony.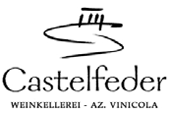 The Castelfeder Winery was founded in 1970 by A. Giovanett. The small private winery was originally laying in the center of Neumarkt in the south of South Tyrol and processed mainly red grapes varieties.
In 1989 the founder's son, Günther Giovanett (born in 1958), took over the management of the winery and at the same time the winery was transferred to the small village of Kurtinig in the very south of South Tyrol.
The purchase of new vineyards and close collaboration with the contracted winegrowers offer Günther Giovanett new possibilities of producing great wines through careful selection of the best production areas and well aimed cultivation of choice varietals- a job he performs with enthusiasm.
There are no products in this group.