U.K.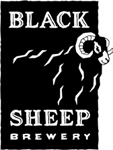 Black Sheep Brewery
Situated at the gateway to Wensleydale, Masham is the home of the Black Sheep Brewery.
It is almost impossible to believe that The Black Sheep Brewery is only 16 years old. In fact it was in October 1992 when their beers first made an appearance in pubs in and around the Yorkshire Dales. The delivery of those first casks of beer all those years ago began a new era for Paul Theakston, whose family has brewed in Masham for six generations.
Black Sheep Ale

500ml   4.4% a.b.v.
Golden Copper in colour, with sweet, yeasty aromas and drying, hoppy flavours, with a crisp and clean finish. An approachable and traditional style ale with appeal for ale fans and non-fans alike.
Riggwelter Ale

500ml   5.7% a.b.v.
With its distinctive roast malt, Golding hops and banana fruit aromas, Riggwelter has a strong and refreshingly dry finish of hops and roasted barley malt.
Monty Python's Holy Grail
500ml   4.7% a.b.v.
Light amber in colour with aromas of fruit, malt and caramel. Balanced flavour with a slight touch of lingering bitterness.
A truly intriguing ale.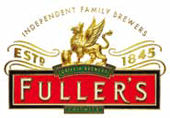 Fuller's Griffin Brewery
Based at the historic Griffin Brewery in Chiswick, between the serenity of the River Thames and the hustle and bustle of the Hogarth Roundabout, Fuller's has been brewing quality beers and running excellent pubs since 1845. At the heart of everything they do, you will find quality, service and pride – in equal measure. The primary aim to brew the best beers and run the best pubs. They proudly hold the title of London's only remaining traditional family brewer.
London Pride

500ml   4.7%    a.b.v.
330ml   4.7%    a.b.v.
"Sensation of angels dancing on the tongue." Smooth, astonishingly complex beer, with a distinctive malty base. Richly balanced with well-developed hop flavours from the target, challenger and north down varieties in the brew.
Organic Honey Dew
500ml    5% a.b.v.
330ml    5% a.b.v.
UK's best selling organic beer. Light and golden with a zesty edge and a bitter-sweet flavour, Honey Dew is a naturally palatable brew that is Soil Association certified as 100% organic. Served chilled for refreshment and unbeatable taste!
E.S.B. 

500ml   5.9% a.b.v.
330ml    5.9% a.b.v.
Not only was it one of the strongest regularly brewed draught beers in the country, it was also one of the tastiest, and as the awareness of the beer grew, so did its popularity. ESB's reputation was enhanced after being named CAMRA's (Campaign for Real Ale) Beer of the Year in 1978, and the beer has not stopped winning since!
India Pale Ale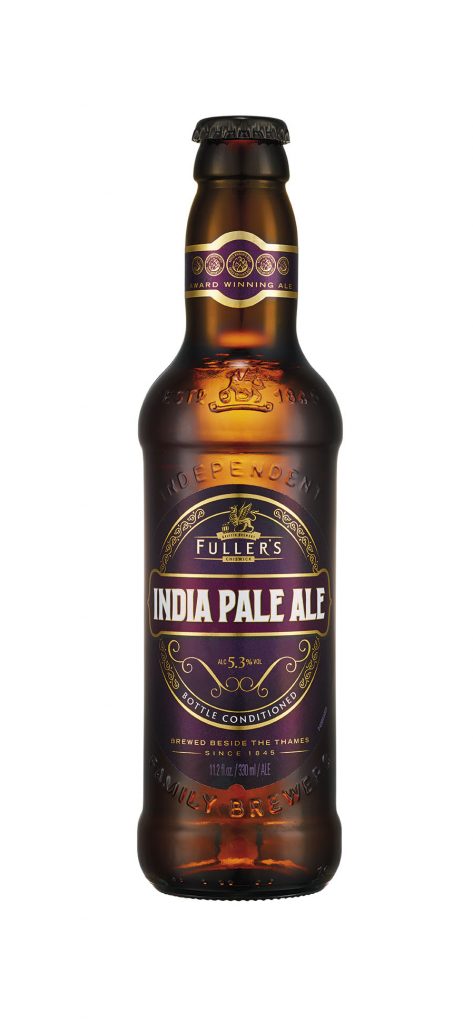 500ml     5.3% a.b.v.
330ml     5.3% a.b.v.
A classic version of a historic style of ale, pale amber in colour and well hopped to leave a pleasant and distinctive bitterness lingering in the aftertaste.
London Porter

500ml    5.4% a.b.v.
330ml    5.4% a.b.v.
London Porter perfectly captures the flavours of the classic style of brews, although you won't find a cloudy pint these days! Smooth, rich and strong, London Porter is brewed from a blend of Brown, Crystal and Chocolate malts for a creamy balance delivered by traditional Fuggles hops. Definitely worth a try if you fancy something stronger and darker than coffee.
Frontier Beer

330ml    4.5% a.b.v.
Frontier cultivates a natural hands-on approach to brewing and their whole team were determined to create a beer with real flavour and authenticity. The lager's taste and credibility will appeal to premium lager drinkers who are interested in more flavoursome beer with the characteristics of lager. The result is a memorable beer with citrus and spicy notes, a light fizzy body and a clean refreshing taste.
Wild River, Double Hopped Pale Ale

500ml    4.5% a.b.v.
Wild River uses some of the finest American hops available, such as Liberty, Willamette, Cascade and Chinook. The hops have been fully infused into the beer to deliver an instant zesty grapefruit flavour. The malt brings a balancing fullness to the hops but the pleasant hop bitterness lingers on the wonderful finish.
1845

500ml     6.3% a.b.v.
Roger Protz, beer writer and critic, describes 1845 as "a rich beer with a fruit cake aroma, spices and nutmeg from malt and hops resulting in a dry, fruity finish". It is also bottle conditioned, which means it is a live beer that continues to ferment in bottle, adding to the complex development of flavours.
Black Cab Stout

500ml     4.2% a.b.v.
A light stout with aromas of dark chocolate, vanilla and roasted malts. Soft-carbonation with a slight biscuit sweetness and easy-drinkability leading to a smooth finish with touch of bitterness.
Montana Red

500ml     4.5% a.b.v.
Pouring a red colour, Montana Red opens with fresh aromas of grapefruit and blackcurrant. On the palate, seasonal Autumn flavours sweep through from the rye crystal, while the Galaxy hops bring scene-stealing sweet and citrusy passionfruit. It's all set against a backdrop of malty, warm, bready notes, giving rise to a beer of deep and distinct flavour.
Oliver's Island

500ml   4.5% a.b.v.
Vintage Ale is brewed in limited batches with each bottle being numbered. It can be enjoyed immediately or, as Fuller's recommends, letting the beer lay down then enjoying when it peaks after 3 to 4 years of laying down and consuming at cellar temperature.
Fuller's Vintage Ale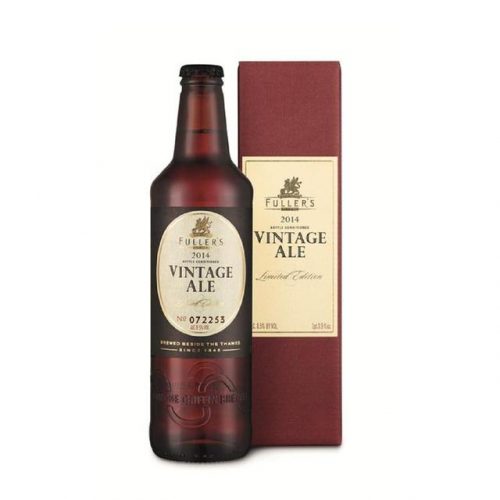 500ml  8.5% a.b.v.
Vintage Ale is brewed in limited batches with each bottle being numbered. It can be enjoyed immediately or, as Fuller's recommends, letting the beer lay down then enjoying when it peaks after 3 to 4 years of laying down and consuming at cellar temperature.
Fuller's Imperial Stout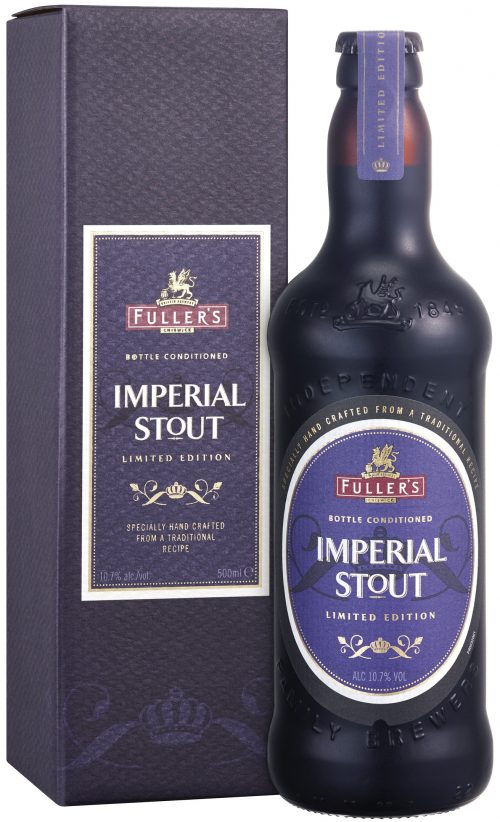 500ml   10.7% a.b.v.
Brewed in the traditional style that became a favourite royal court, this limited edition Imperial Stout has been specially created as a single brew. In a unique addition to the historic recipe, the floral character of the Centennial hops is enhanced by the inclusion of rose buds, lending a hint of Turkish delight flavour to the beer. This Imperial Stout has a rich, dark appearance with strong chocolate and deep cherry notes which lead to a lighter, bitter finish.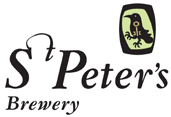 The St. Peter's brewery is nestled in Suffolk amongst a group of villages known as the "The Saints", as they take their names The brewery at St. Peter's is housed in listed former agricultural buildings which were last used in the late 60s. They then became derelict but offered a superb site both for a working brewery and a visitors' attraction.
St. Peter's English Lager

500ml   5.2% a.b.v.
A bottom-fermented beer brewed using extra pale lager malt with Hallertau and Styrian Golding hops, as traditionally used in lager brewing. The result is a full-bodied, tasty lager which has performed very well in consumer taste tests and has proved to be a refreshing choice amongst the international lager brands.
St. Peter's Organic Ale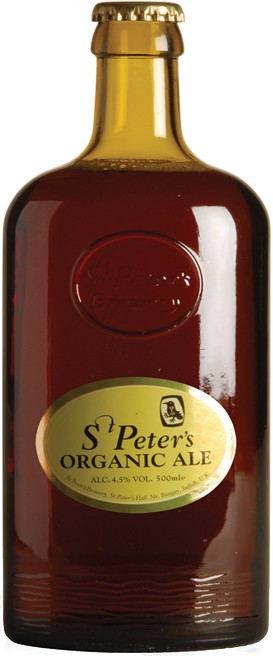 500ml   4.5% a.b.v.
Water is extracted from their own 300' deep borehole and combined with Soil Association accredited light malted barley from Norfolk. Organic hops provide the distinctive palate. The yeast used is St. Peter's own single strand variety. The result is a delicate, clean, crisp, lightly carbonated, traditional English Ale with a full 'citrus hop' aftertaste.
Winner of Organic Beer Category of Hong Kong International Beer Awards 2011
St. Peter's Suffolk Gold

500ml   4.9% a.b.v.
Suffolk-grown First Gold hops provide the inspiration for this well hopped premium beer which is brewed with Suffolk malt resulting in a classic full and rich ale.
St. Peter's Fruit Beer – Grapefruit

500ml    4.7% a.b.v.
Awarded a bronze medal at the 30th Annual Great British Beer Festival at Earls Court, London, in the Specialty Beers category. Grapefruit Beer is fabulously refreshing with a zesty edge and makes an ideal aperitif on a summer evening.

Wells and Young's Brewing Company is the epitome of all-rounded business excellence, demonstrating sustained growth for its beers and stock lists whilst combining traditional family values with innovation and development. Firmly placed as the UK's largest private brewing company, it is fiercely independent, and with an enviable portfolio of some of the UK's most loved cask beers and specialty lager brands.
Double Chocolate Stout

330ml    5.2% a.b.v.
500ml    5.2% a.b.v.
Chocolate malt and real dark chocolate are combined with Young's award winning rich, full flavoured dark beer to craft a satisfyingly indulgent, but never overly sweet experience.
Banana Bread Beer

330ml   5.2% a.b.v.
500ml   5.2% a.b.v.
Tempting banoffee aromas tempered by a grassy, lemony nose, all leading to a finely balanced, fresh, delicate flavour of peppery hops with a lingering dry finish.
Bombardier English Ale

330ml   5.2% a.b.v.
500ml    5.2% a.b.v.
"A burnished copper colour, it has a rich, tempting aroma of peppery hops and raisins, while the palate is dominated by more dark fruit, juicy malt and tangy hops." -Roger Protz, Editor, The Good Beer Guide
London Gold

500ml   4.5% a.b.v.
A bottle conditioned Gold beer that is an unpastereurised, living beer, which matures in the bottle for a fuller, more complex and fresher taste. With no artificial carbonation, the only fizz is the natural effervescence created by fermentation.