champagne
The Synonymous Region with Classic Method Sparkling Wines
The region's reputation for wine production dates back to the Middle Ages when Pope Urban II, a native Champenois, declared that the wine of Aÿ in the Marne département was the best wine produced in the world. As the region's reputation grew, popes and royalty sought to own pieces of the land with Pope Leo X, Francis I of France, Charles V of Spain, and Henry VIII of England all owning vineyard land in the region.
Read More
 In 1927, viticultural boundaries of Champagne were legally defined and split into five wine producing districts- The Aube, Côte des Blancs, Côte de Sézanne, Montagne de Reims, and Vallée de la Marne.
This area covers 33,500 hectares of vineyards around 319 villages that are home to 5,000 growers who make their own wine and 14,000 growers who only sell grapes.The different districts produce grapes of varying characteristics that are blended by the champagne houses to create their distinct house styles.
The Pinots of the Montagne de Reims that are planted on northern facing slopes are known for their high levels of acid and the delicacy they add to the blend. The grapes on the southern facing slope add more power and character. Grapes across the district contribute to the bouquet and headiness. The abundance of southern facing slopes in the Vallée de la Marne produces the ripest wines with full aroma.
The Côte des Blancs grapes are known for their finesse and the freshness they add to blends with the extension of the nearby Côte de Sézanne offering similar though slightly less distinguished traits. Following this in 1942, the Comité Interprofessionnel du Vin de Champagne (CIVC) was formed with the purpose of protecting Champagne's reputation and marketing forces as well as setting up and monitoring regulations for vineyard production and vinification methods. As such, Champagne is the
only region that is permitted to exclude the Appellation d'Origine Contrôlée (A.O.C.) from their labels in France.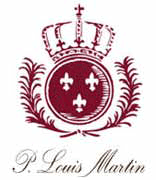 81
The Paul Louis Martin Champagne House was founded in Bouzy, located in the Montagne de Reims area in 1864. Here lies the realm of Pinot Noir, a hardy and generous variety of grape.
It was here that Louis Martin actively participated in forming the Bouzy Cooperative and was elected as its founding President. He started his legacy of winemaking with his first Marc de Champagne in 1929 and his son Paul actively helped him in extending the chalky cellars in order to obtain the best conditions for bottle ageing of wine, in particular sparkling Champagne.
Succeeding his father, Paul Louis Martin was a person who was loved by all and was one of Bouzy's well-know local figures. Driven by a passion in his work, he was a brilliant Champagne producer who also produced rich red wines, in particular a Bouzy Rouge.
Currently his daughter Francine, aided by her son Vincent, have continued the legacy and they remain vigilant in keeping a high quality of Champagne. Thus, the wines produced by this estate have retained their character as originally developed by the Master who first produced them.