bordeaux
The World Renown Designation for Fine Wines
Bordeaux wines range from large quantities of everyday table wine, to some of the most expensive and prestigious wines in the world. Bordeaux has roughly 116,160 hectares of vineyards, 60 appellations, 10,000 wine-producing châteaux and 13,000 grape growers.
Read More
 Included among the latter are the area's five premier cru (first growth) red wines, established by the Bordeaux Wine Official Classification of 1855:
• Château Lafite-Rothschild (Médoc)
• Château Margaux (Médoc)
• Château Latour (Médoc)
• Château Haut-Brion (Graves)
• Château Mouton-Rothschild* (Médoc, elevated in 1973 from Second Growth)
The Bordeaux wine region is divided into subregions including Saint-Émilion, Pomerol, Médoc, and Graves. The 60 Bordeaux appellations and the wine styles they represent are usually categorized into six main families, four red based on the subregions and two white based on sweetness:
• Red Bordeaux and Red Bordeaux Supérieur. Bordeaux winemakers may use the two regional appellations throughout the entire wine region, however approximately half of the Bordeaux vineyard is specifically designated under Bordeaux and Bordeaux Supérieur AOCs. With the majority of châteaux located on the Right Bank in the Entre-Deux-Mers area, wines are typically Merlotdominant, often blended with the other classic Bordeaux varietals. There are many small, family-run châteaux, as well as wines
blended and sold by wine merchants under commercial brand names. The Bordeaux AOC wines tend to be fruity, with minimal influence of oak, and are produced in a style meant to be drunk young. Bordeaux Superieur AOC wines are produced in the same area, but must follow stricter controls, such as lower yields, and are often aged in oak.
• Red Côtes de Bordeaux. Eight appellations are in the hilly outskirts of the region, and produce wines where the blend usually is dominated by Merlot. These wines tend to be intermediate between basic red Bordeaux and the more famous appellations of the left and right bank in both style and quality.
• Red Libourne, or "Right Bank" wines. Around the city of Libourne, 10 appellations produce wines dominated by Merlot with very little Cabernet Sauvignon, the two most famous being Saint-Émilion and Pomerol. These wines often have great fruit concentration, softer tannins and are long-lived. Saint-Émilion has an official classification.
• Red Graves and Médoc or "Left Bank" wines. North and south of the city of Bordeaux, which are the classic areas, produce wines dominated by Cabernet Sauvignon, but often with a significant portion of Merlot. These wines are concentrated, tannic, long-lived and most of them meant to be cellared before drinking. The five First Growths are situated here. There are official classifications for both Médoc and Graves.
• Dry white wines. Dry white wines are made throughout the region, using the regional appellation Bordeaux Blanc, often from 100% Sauvignon Blanc or a blend dominated by Sauvignon Blanc and Sémillon. The Bordeaux Blanc AOC is used for wines made in appellations that only allow red wines. Dry whites from Graves is the most well-known and the only subregion with a classification for dry white wines. The better versions tend to have a significant oak influence.
• Sweet white wines. In several locations and appellations throughout the region, sweet white wine is made from Sémillon, Sauvignon Blanc and Muscadelle grapes affected by noble rot. The best-known of these appellations is Sauternes, which also has an official classification, and where some of the world's most famous sweet wines are produced. There are also appellations neighboring Sauternes, on both sides of the Garonne river, where similar wines are made. The regional appellation for sweet white wines is Bordeaux Supérieur Blanc.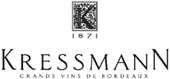 The Kressmann company was founded in 1871 by Edouard Kressmann, a talented man with an astute business acumen. He set up office on the famous Quai des Chartrons in Bordeaux, where he soon set about selecting a number of partner estates whose wines he sold under ED. Kressmann & Cie.
Today, Kressmann wines are distributed in over 80 countries, yet still retain the same values of professionalism, exacting standards, expertise and quality, which helped establish its reputation so many years ago.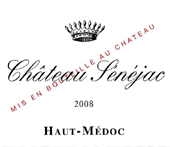 hâteau Sénéjac, one of the better known Crus Bourgeois, is located in the far south of Haut-Médoc, near the vineyards of Margaux. A historic estate of 150 hectares,of which 38 are planted with vines, gaining its reputation for making quality wine in the 1980s. The wine is a blend of Cabernet Sauvignon 60%, Merlot 25%, and Cabernet Franc 15%. It matured in oak barriques (25% new) for 18 months.
The 2008 vintage is intense and well-structured with a dense and brilliant colour. Offering black cherry aromas and spices on the aromatic nose, the 2008 vintage is showing a good balance between fruitiness and acidity and finale is very fresh.