Chimay 150th Anniversary
Congratulations to our draw winners!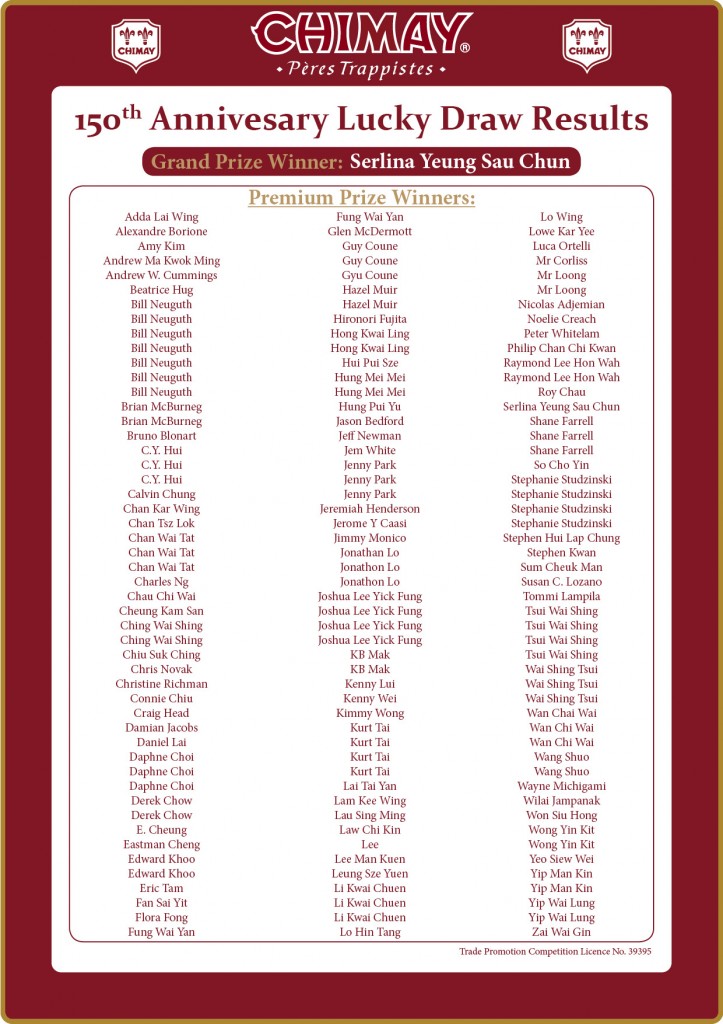 Chimay Trappist Beer, brewed within the walls of the Scourmont Abbey, follows a historical legacy originating from their original batch produced in 1862.
To this day, Chimay Trappist Beer, continues to be brewed under the supervision of the resident monks who closely adhere to their traditional methods and ingredients.
2012 marks their 150th anniversary and to celebrate this we are hosting a lucky draw party with a once-in-a-lifetime chance to win an expenses-paid trip to Belgium to visit the Chimay Abbey and Brussels.
To participate, purchase a Chimay beer or Gift Pack at participating outlets and complete the attached Entry-Tag for a chance to win one of many prizes.
GRAND PRIZE:
An expenses-covered flight & accommodation for two to Belgium, which includes a visit to the Chimay Abbey & Brewery and to the capital city of Brussels.
150 PREMIUM PRIZES:
A bottle of the collector's edition silkscreen-printed Chimay Blue, Grand Reserve, Vintage 2012.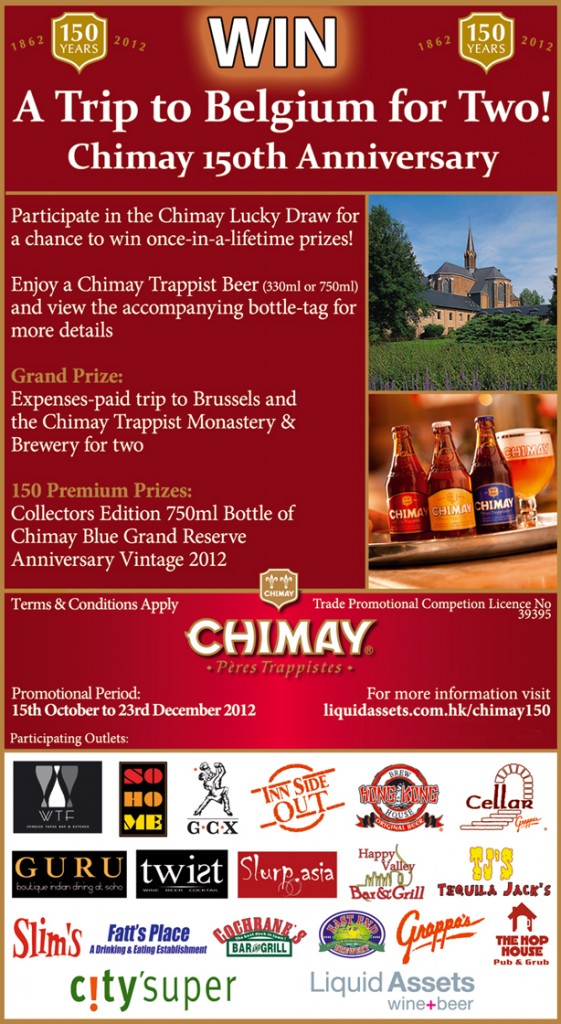 Terms & Conditions: 1. Entrants must be at least 18 years of age to participate. 2. Please double check your contact details as incorrect entries may be disqualified. 3. One GRAND PRIZE of a trip for two to Belgium or 150 PREMIUM PRIZES of one collectors edition Chimay bottle are available 4. All winners will be drawn and announced live at a special CHIMAY 150th ANNIVERSARY CELEBRATION at GRAPPA'S CELLAR (Jardine House, 1 Connaught Road, Central), on Sat, Jan 12th, 2013, 7:30pm (draw is at 9:30pm). 5. When claiming a prize please present your retained half of the entry ticket with matching entry number 6. Prize winners will also be contacted by phone and email the following week. 7. The names of all the winners will be announced in the South China Morning Post and Apple Daily on January 22nd, 2013. 8. Prizes cannot be redeemed for cash. 9. According to the Personal Data Privacy Ordinance (Cap. 486) all personal data involved will be collected, handled and destroyed 10. In any case of dispute, Liquid Assets Limited reserves the right of final decision. 11. Closing date for entry submissions is the 23rd of December 2012